[Alexander] created codex_py2cpp as a manner of experimenting with Codex, an AI supposed to translate pure language into code. [Alexander] had barely completely different concepts, nonetheless, and created codex_py2cpp as a approach to play with the concept of automagically changing Python into C++. It's probably not supposed to create strong code conversions, however so far as experiments go, it's fairly neat.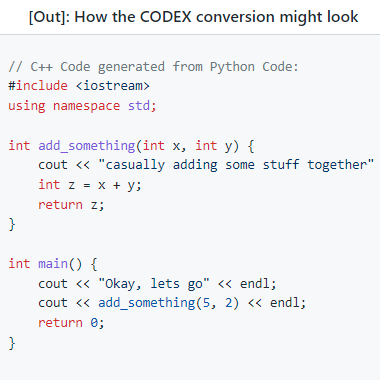 This system works by studying a Python script as an enter file, organising a couple of parameters, then making a request to OpenAI's Codex API for the conversion. It then makes an attempt to compile the outcome. If compilation is profitable, then hopefully the ensuing executable really works the identical manner the enter file did. If not? Effectively, studying is enjoyable, too. For those who give it a shot, perhaps begin easy and don't throw it too many curveballs.
Codex is an attention-grabbing thought, and this isn't the primary experiment we've seen that performs with the idea of utilizing machine studying on this manner. We've seen a project that generates Linux commands based on a verbal description, and our own [Maya Posch] took a close look at GitHub Copilot, a mission excessive on promise and idea, however — not less than on the time — significantly much less so when it got here to precise practicality or usefulness.